Condos for Sale | Saanich, BC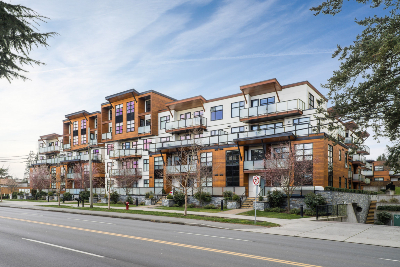 Search the newest Saanich, BC Condos for sale. Saanich's southern border is just a mere three kilometers north of downtown Victoria, and it is Victoria's largest district both by population and area. Although Saanich is so big that it has the highest population, it has a very low population density as it has many parks and single-family neighborhoods. There's a wide variety of condos for sale in Saanich, each with different lifestyles and amenities.
Latest Condo Listings in Saanich, BC
Saanich Condos
October 4, 2023
$1,250,000
Med. List Price
Condos for Sale in Saanich - An Overview
When looking at condos for sale in Saanich, BC the first thing that you should know is that this region stretches from Finlayson St. at the southern end of Saanich Core, all the way to the top of Cordova Bay. This district is not just tall but also wide. It stretches from the west end of rural Saanich to the east end of Cadboro Bay.
This district is so large, which means you will have plenty of selection for condos. You can find 2-bed, 2-bath units for as little as $299k. Conversely, you can get 2-bed, 2-bath units for nearly $1 million as you get closer to the city and the ocean. It all depends on what you want.
There are three things, in particular, to keep in mind when looking at condo real estate in Saanich:
Proximity To the City: Most condos are going to be relatively close to Victoria. Even though Saanich might be a large district by area, there aren't too many condos once you get north of Royal Oak. The area becomes much more about single-family homes in the northern part of Saanich.
Prices Can Vary Quite a Bit: Condo prices can vary quite a bit in Saanich, depending on the neighbourhood and how in-demand it is. If you're looking for the best deals, usually condos near the University of Victoria are a little less pricey. However, if you work in the downtown area, that can feel like a sizable commute at times.
Pay Attention To Association Fees: Since Saanich has such a diverse real estate portfolio, you cannot assume that the maintenance fees will be mostly equal across the board. Usually, these fees are somewhere around $300 a month, but some associations can charge upwards of $500. Be mindful of this when looking at real estate.
A Brief Primer on Saanich's Neighbourhoods
Twelve different neighbourhoods make up the district of Saanich. Each of these neighbourhoods has a different feel to it, with some being more suited for a family and others being more suited for young professionals.
Here's a quick primer on what these 12 neighbourhoods are. Please see which one might be a fit for you!
Saanich Core - If you search "Saanich" on Google Maps, this is what it thinks is Saanich. It's close to Victoria proper. There's plenty of shopping, entertainment, and eating nearby, making this an ideal spot for families and young professionals alike!
Cordova Bay - Does living near the beach sound appealing to you? If so, you'll want to consider Cordova Bay! The only problem is that there aren't many condos for sale, this part of Saanich. But there are plenty of single-family homes!
Royal Oak - Situated in the heart of Saanich, this lovely community has cafes, restaurants and shopping throughout it. It's also close to Elk/Beaver Lake Regional Park, making it a perfect place to live if you want to connect with nature at the end of the day!
Quadra - Situated to the right of Saanich Core, this neighbourhood has all the conveniences you'd expect from living in Victoria. It's also home to Swan Lake Nature Sanctuary and Cedar Hill Park & Golf Course, so nature is never too far away in Quadra.
North Quadra - As you may have guessed, North Quadra is above Quadra! By comparison, this neighbourhood is relatively small. There are a few condos here, but you're more likely to find one in Quadra.
Shelbourne - To the right of Quadra sits Shelbourne, home of the Cedar Hill Shopping Plaza and Hillside Mall. One of the nice things about Shelbourne is that it is between the University of Victoria and downtown. This geological positioning makes it a popular spot for students, professors, and staff at the university who want to be close to the downtown area.
Tillicum - This area mixes modern developments and heritage places to create a beautiful mosaic of architecture. This section is home to the Tillicum Shopping Centre, a popular destination for residents to buy all sorts of things.
Cadboro Bay - This area is quite a bit more upscale and residential. The vast majority of Cadboro Bay contains single-family dwellings. You won't find a condo here.
Gordon Head - Situated to the north of the University of Victoria and Cadboro Bay, this community is also relatively upscale and residential. There are some condos here, but not to the same extent as other parts of Saanich.
Blenkinsop - This is a quiet neighbourhood with some excellent nature access. However, Blenkinsop contains single-family homes and duplexes. There aren't any condos in this area.
Carey - Situated below Rural Saanich, this is a very green part of Saanich. Since it's a little bit further away from downtown, condos tend to be a little less expensive here than some other parts of Saanich.
Rural Saanich - This section is the least dense and the furthest from the city. However, there aren't any condos in rural Saanich, so this isn't an area that condo shoppers can consider.
Condos for Sale in Saanich: What Amenities Are Available for Residents?
Recall that Saanich is an extensive district that contains over 100,000 people. There are plenty of amenities in the community, but you may have to cross over into another neighbourhood to get them since it is so large. Here are a few of the most common amenities that people seek out.
Parks and Recreation
There are plenty of parks and green spaces available in Saanich. Mt. Douglas Park, Swan Lake, Elk Lake, and Cedar Hills Park are all within the Saanich district limits. If you love golf, there's Mt. Douglas Golf Course and Cedar Hill Golf Course!
No matter where you live in Saanich, there's always something outdoorsy that you'll be able to do!
Shopping and Dining
Since Saanich is so extensive, here are the top five shopping and dining destinations within the district:
Quadra Village - Go grab a coffee at Caffe Fantastico or pick up groceries at Fairway Market
Hillside Shopping Center - There is almost everything you need here. Canadian Tire, Thrifty Foods, BC Liquor or one of my favourite bookshops Bolen Books
The Beach House Restaurant up in Cordova Bay is a wonderful place to grab an upscale bite while looking at the ocean
Cadboro Bay Village - Peppers market is a great little grocery store and across the street you will find a few boutiques and fantastic restaurants.
Schools
There are numerous private and public schools available to students. Since most of Saanich has a family-friendly environment, these schools tend to be quite good overall. According to the Fraser Institute, St. Margaret's, St. Joseph's, and Maria Montessori are the top schools in the Saanich area.
Of course, we would be remiss not to mention that the University of Victoria resides in Saanich! UVic is a great school, having earned the second spot on the list of Canadian comprehensive universities by Maclean's magazine. If you have university-bound students, being near the University of Victoria could make it easier for them to achieve those ambitions!
There's a Lot To Like About Condos for Sale in Saanich
The condo market in Saanich presents quite a few unique upsides for buyers. It's not as in-demand as downtown Victoria, and there's quite a lot of variety. You can buy something close to UVic, downtown, or everywhere else in between. You can be close to shopping centres or buy your condo in a more spacious community. In Saanich, because the geography varies so much, these are all possible options.
Saanich REALTORS®
If you're interested in condos for sale in Saanich, please contact one of our real estate agents. We would love to learn more about your circumstances and help you find a home that will achieve your real estate dreams and fit within your budget.
Similarly, please contact us if you're thinking of selling a condo in Saanich. Our experts have extensive experience getting Saanich residents top dollar for their condos! We're marketing experts, which means we offer a very comprehensive listing service. We don't list it on the MLS and wait for people to find it - we use social media ads, print marketing, and our website to give your property the most exposure.