Oak Bay BC Homes & Real Estate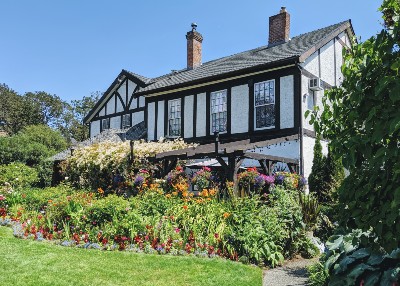 Search all homes and real estate listing in Oak Bay, BC.
Oak Bay is high-priced community with a combination of family and luxury homes. The tree lined streets and beautiful gardens make Oak Bay one of the premier neighbourhoods in Greater Victoria.
Don't hesitate to schedule a showing for Real Estate in Oak Bay, BC with one of our neighbourhood experts. Don't forget to sign up for a free account so you can receive property alerts whenever a new house is listed!
Latest Homes for Sale in Oak Bay
Oak Bay Real Estate
November 29, 2023
$2,162,500
Med. List Price
About Oak Bay
Nestled on the southeast shores of Victoria, Oak Bay has it all: calm bays, sandy beaches, luxury boutiques, galleries, inviting delis and cozy cafés. With the tranquility of a low-traffic neighbourhood and essential amenities close at hand, you can spend more time enjoying the life at your fingertips.
Locals love the area for its charming Estevan and Oak Bay villages, first rate community complexes, and its world-class seaside overlooking the Oak Bay and Trial Islands Ecological Reserves, as well as the impressive Olympic Mountains in the distance. As one of Victoria's most affluent neighbourhoods, Oak Bay real estate is on the pricey side. Attractive places come at a cost, but the seaside serenity and scenery are priceless.
Real Estate in Oak Bay
Architecture
Oak Bay is full of charming character homes and stately mansions. 19th-century heritage homes and architecture reminiscent of Tudor Revival and Art Deco grace Oak Bay's private and quiet neighbourhoods. The work of prominent historical architects Francis Rattenbury and Samuel McLure is featured in the area as well. While older homes without protected status have been replaced by condos or townhouses, single family homes are still more common. Overall, homeowners are gifted a sense of security by its private and quiet neighbourhoods. The real estate in Oak Bay is some of the best in the Greater Victoria area.
Oak Bay's Six Main Subdivisions
Henderson - Settled conveniently between the University of Victoria, Estevan village, and Cadboro Bay, the Henderson neighbourhood is a great location for everyone. Many residences are perched on Landsdowne Hill, offering stunning vistas of the Olympic Mountains. Easy access to the university not only means access to educational resources but the campus's trail systems and gardens are highly underrated destinations for walking, running, and simply being in nature. The rental market is always a hot commodity to offer the student population as well. With Henderson Recreation Centre and Uplands Golf Club next door, you can be active while meeting your daily shopping needs in Cadboro Bay's nearby micro-village.

The Uplands - The Uplands hosts sizable and elegant estates with large gardens. The winding streets are unique from the usual city grid and are lined with globe lamp posts that hearken to older times. Its superb location with access to the Garry Oak meadows of Uplands Park and the rare tidal ecological zone of Cattle Point make it a beautiful and sought after place to call home. The Uplands has some of the most prestigous real estate in Oak Bay.

Estevan - The Estevan neighbourhood surrounds a quaint micro-village complete with cafés, clothing stores, gourmet specialty shops, pubs, and restaurants, including a popular fish and chips stand. Residents have the luxury of grabbing something to go and heading a couple blocks down for a picnic at sandy Willows Beach. The waterfront homes in Estevan up to the Uplands are some of the most amazing homes for sale in Oak Bay.

North Oak Bay - Located on the northside of Oak Bay avenue, North Oak Bay is an ideal location. Nearby to Oak Bay Village with its charismatic boutiques and restaurants. Iconic Bowker Creek runs through North Oak Bay, providing a delightful little walking trail with a newly restored riverbank and little Haynes Park by the sea.

South Oak Bay - Beyond sharing similar breathtaking views of the Salish Sea to the rest of Oak Bay, South Oak Bay provides for easy access to Oak Bay Marina as well as the seaside Victoria Golf Course. Similar to North Oak Bay, the village conveniently offers a place to dine, shop, and quickly have other needs met.

Gonzales - Gonzales boasts the best of both worlds, as it straddles Harling Point, which sits between McNeil and Gonzales Bay — one of Victoria's best kept sandy secrets. Located conveniently on the southernmost tip of Oak Bay, residents get to soak up stunning sunrises as well as sunsets. The historic Chinese Cemetery and Trafalgar Park are also serene places to visit at any time of day. And a quick hike up the bluffs to the observatory in Gonzales Hill Regional Park gives you a supreme vista of the entire district and the Trial Islands Ecological Reserve. Walbran park offers a similar scenic bluff to explore in your free time.
About Oak Bay
Climate
Oak Bay residents benefit from a series of favourable microclimates. Willows Beach, for instance is sheltered from the winds seen on the south coast of Victoria. With the thousands more hours of sunshine afforded annually to the Victoria area, compared with its wetter neighbours, such as Vancouver, Oak Bay stands proudly on its climate pedestal. The sun burning through mystical early-morning fogs can also make for stunning light shows.
History
Oak Bay, and the Greater Victoria Area more generally are located on the traditional Coast Salish lands of the Songhees, Esquimalt, and W̱SÁNEĆ peoples. The rare Garry Oak ecosystems and spectacular camas meadows are a testament to the age-old Coast Salish cultural practice of burning camas fields, which created exceptionally diverse and abundant landscapes. These lands were seen as greatly desirable by early European settlers, who arrived in the late 1700's and began making room for Fort Victoria, which was established in 1843. Hudson's Bay Company took control over the Oak Bay area in the second half of the 19th century. Under agreement with the Oak Bay municipality, the Hudson's Bay Company developed the remaining land into residential property from 1945 to 1960. The company then sold the north section to the University of Victoria in 1960. Oak Bay's Tod House, built in 1850, remains to this day "the oldest continuously-occupied house in Western Canada."
Oak Bay Amenities
Parks & Recreation
Oak Bay boasts around 30 different park sites, as well as a recreation centre close to every neighbourhood.
Oak Bay Recreation Centre - Oak Bay Recreation Centre has a superb pool for swimming laps or relaxing in the sauna, hot tub, or steam room. It is also a top destination for kids, with its climbing wall, waterslide, and fun kids pool themed with a tropical atmosphere. The Centre is also complete with a hockey arena, workout gym, indoor drop-in soccer field, tennis, and a series of fitness classes, including jazzercise, aqua-fit and fitness fusion. It also hosts world-famous musicians in its Upstairs Lounge, which you can tie in with a meal at the Sports View Deli Bar & Grill.
Monterey Recreation Centre - From yoga to cuisine, belly-fit to billiards, Monterey Recreation Centre in the heart of Oak Bay hosts a variety of classes to keep you involved, active, and connected.
Victoria Golf Club - Victoria Golf Club was founded in 1893, making it not only the oldest 18-hole golf course in Canada, but it's the second oldest in all of North America that has retained its original location. And there's a reason it hasn't moved. Situated on the shores of the Salish Sea, residents can take in stunning views of the Olympic Mountains as they play. The natural heat moderation from the sea allows for comfort in the hotter seasons as well. Its stately clubhouse also boasts its status as a Canadian Historic Place.
Carnarvon Park - The Carnarvon Park has sports fields for soccer and lacrosse, as well as tennis courts and a playground and water park for the kids
Other notable parks include the Bowker Creek Walkway, Uplands Park, Anderson Hill Park, and Willows Park by the sea
Shopping & Dining
Estevan Village - Estevan's micro-village is jam-packed with cultural foods from Chinese to Thai, as well the famous Willows Galley Fish & Chips stand. Many delight in having their morning meal at The Village brunch restaurant or across the street at Ruth & Dean's luncheonette. In that same one-block span, Estevan Village also has a jeweller, barber, gift shop, and pharmacy.
Oak Bay Summer Night Markets - With its "make it, bake it, grow it" mentality, Oak Bay's markets are a local treasure for the sights and senses. Oak Bay avenue closes off traffic for the market, which features the work of local artists and artisans, in-season produce grown from local farmers, as well as scrumptious street food, and micro-brewed and distilled beers, wine, and spirits. It's a great place to purchase greeting cards, jewellery, textile arts, toys, fresh soaps, and other artisanal wares. To add to the cultural atmosphere, cross-streets are often occupied by theatrical and musical performances, which are a market mainstay loved by kids and adults alike.
Oak Bay Village - Oak Bay avenue is a picturesque historic village with a collection of boutiques and eateries. You can grab a treat from Ottavio Italian Bakery & Delicatessen, stop for locally caught seafood at either Oak Bay Seafood or the ocean side Marina Restaurant. There are many cafés and tea rooms to choose from. The Penny Farthing will have four fires warmly crackling away as you enjoy a cozy dinner and drink with friends in the dark-wooded atmosphere of this Old English-style pub. Oak Bay also has a variety of clothing stores, jewellers, a local bike and repair shop, and pet store. The Winchester Galleries is a hub for local as well as internationally renowned artists to showcase and sell their exceptional work to the public.
Entertainment
Oak Bay hosts a grand array of arts and culture events throughout the year, including Art & Culture Days, ArtsAlive, and the Oak Bay Artists Studio Tour
Schools in Oak Bay
Public
Willows Elementary - 2290 Musgrave Street - Victoria, BC, V8R 5Y2
Monterey Middle School - 851 Monterey Avenue, Victoria, BC, V8S 4V1
Oak Bay High School - 2151 Cranmore Road, Victoria, BC, V8R 1Z2
Alternative
St. Christopher's Montessori School 2619 Currie Road, Victoria, BC, V8S 3B9
Private
Glenlyon Norfolk School (K-12) - 1701 Beach Drive, Victoria, BC, V8R 6H9
St. Michaels University School (K-12) - 820 Victoria Avenue, Victoria, BC, V8S 4N3
College
University of Victoria 3800 Finnerty Road, Victoria, BC, V8N 1M5
Preschools
Gonzales Preschool 2928 Eastdowne Road, Victoria, BC, V8R 5R8
Oak Bay Parent Owned Pre-School - 1701 Elgin Street, Victoria, BC, V8R 5L2
Oak Bay Stats
Size and Population
Area: 10.53 km2
Population: 18,094 (2016 stats)
Population Density: 1,717.7 per square kilometre
Zip Code(s): V8P, V8R
Interesting Trivia
Between 1933 and 1938, 14 films were produced in Oak Bay, giving it the title of the original "Hollywood North"
Oak Bay's Tod House, built in 1850, remains to this day "the oldest continuously-occupied house in Western Canada."
Oak Bay is home to Canada's oldest Chinese cemetery, which is located on Crescent Road at Harling Point. In 1995 it received the status of a National Historic Site. The cemetery was built adhering to the principles of feng shui.
Oak Bay REALTORS
®
Do you have questions about any home for sale in Oak Bay? We are here to help! Are you ready to view some homes? Just give us a shout. We would love to set up a private showing. We are experts in the Oak Bay real estate market and would like nothing more than to help you in your search.
Are you selling your home in Oak Bay? We will put together a customized home valuation report based on the most recent local home sales data. We can walk you through the current Oak Bay real estate market trends, outline the best marketing strategy for your property, list it on the MLS, syndicate it to major real estate portals, and advertise it on our highly-trafficked website. We specialize in getting your home sold for the best price and on the timeline that works best for you.