Condos for Sale | Bear Mountain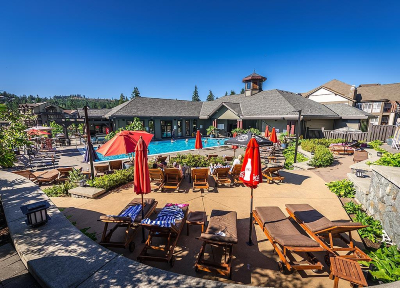 Bear Mountain is one of the most sought-after spots in Victoria. With picturesque views, many resort-like qualities, and some of the best golfing in the area, Bear Mountain has long been a favourite community for people who want to live on Vancouver Island. Fortunately, there are numerous condos for sale in Bear Mountain, so you'll be able to find your perfect home (or second home)!
If you're in the market to buy, please look at the listings below. Click on the ones you like. If you're interested in seeing one of these condos in person, please contact one of our agents. And, if you haven't done so already, please register for a free account so we can send you alerts when new condos come on the market that might be a good fit for you!
Latest Condo Listings in Bear Mountain
Bear Mountain Condos
December 10, 2023
$1,099,900
Med. List Price
Condos for Sale in Bear Mountain: What Makes These Ideal?
Bear Mountain is a beautiful spot. Situated about 19 kilometres west of the city of Victoria, the landscape in Bear Mountain provides some of the most beautiful views on the entire island. Depending on where you buy your condo, you could see a mountain out your window or overlook a golf course. Regardless of where you buy, most of this community is laid-back, relaxed, and tranquil. It's an ideal place to live, work, raise a family, or even retire.
These condos are popular vacation properties for this exact reason. People enjoy being able to get away from other cities' stress and take some time to relax mountainside. Only 5 minutes to Costco and other shopping and 25 minutes from Downtown Victoria, Bear Mountain is an ideal spot to enjoy the nature while being close to all the amenities of the city.
Bear Mountain Condo Real Estate
Bear Mountain is home to plenty of condos, but there is an important distinction when talking about real estate in this community. There's a formal Bear Mountain Resort Community, and there's Bear Mountain, the area.
Bear Mountain Resort Community is a planned master community around two golf courses. The developer, Ecoasis Resort and Golf, specializes in building beautiful resort-style communities. The area surrounding Bear Mountain has plenty of available condos. Much of this real estate is on Bear Mountain Parkway, which is how people get from Langford, BC, up to the resort community.
The surrounding communities are relatively new, so you'll typically receive all the amenities you would expect from modern living. Many condos feature tall ceilings, gourmet kitchens, and spectacular views. While Bear Mountain real estate is not inexpensive, the condos often represent a much better deal overall - especially for families or those looking for a vacation home. Instead of paying the premium for the resort community, you can secure a lovely condo for sale in Bear Mountain. You'll get most of the features at less money!
Living in Bear Mountain
Living in Bear Mountain has a much different vibe than many other parts of Victoria. For starters, it's very residential, quiet and full of nature. There is a wonderful village at the top of Bear Mountain with shopping and dining and then all the services you may need are only 5 minutes away down the mountain into Langford.
Of course, this has both pros and cons. The fact that this area is relatively secluded means that it is very peaceful. You'll enjoy quiet evenings out on your balcony, calm neighbours, and low crime rates. On the other hand, for major grocery or shopping needs, you'll need to come down the mountain for that. It's not a big deal, but it is something to keep in mind.
The condos for sale in Bear Mountain are excellent living spaces. They have many luxuries and amenities, much like a house would have. Plus, you'll be able to walk out your door into the beautiful greenery of Bear Mountain or hike along the many trails that are trails located near Bear Mountain. Condo Living in Bear Mountain can be perfect homes for people who enjoy getting outside and staying active, or if you just want to settle down in a community with beautiful views.
If you buy one of the condos for sale in Bear Mountain, you will have quite a few amenities nearby!
Parks and Recreation
Bear Mountain Playground - For families with children, the Bear Mountain playground is an ideal place to run, slide, and jump for the younger kids.
Ida Anne Lake - If you're looking for a tranquil place, the park surrounding Ida Anne is gorgeous and relaxing. It's a fantastic place to get some exercise, eat a picnic, or even spot some wildlife (if you're lucky, you can occasionally see some deer in this park).
Millstream Disc Golf Course - Does the prospect of playing disc golf excite you? If so, Millstream is a fun place to play. It's a fantastic spot too to get outdoors and get some exercise!
Mountain and Valley Golf Courses - Finally, for those into real golf, the Mountain and Valley courses at the Bear Mountain Resort Community provide some of the best golfing experiences you'll find on Vancouver Island.
The Canada Cup Trail Network - There is a great network of hiking and mountain bike trails all around the bear mountain area. These trails were used for the Canadian team to practice for the Olympics.
North Langford Recreation Centre - There is a fantastic rec centre in Bear Mountain that has all the amenities you might need. A great gym and swimming pool as well as many work out classes and yoga.
Shopping and Dining - Eat at Fantastic Places with a Condo for Sale in Bear Mountain
The Rack Westcoast Bistro - If pulled pork and wings are your ideas of perfect food, the Rack Bistro is where you'll want to be. Featuring some of the best bar food in the Langford area, many people love having a night out at The Rack.
Fountain Diner - The Fountain Diner has excellent old-fashioned comfort food. You can get omelettes, many types of eggs benedict, burgers, salads, milkshakes, and more at this place. If you have a huge appetite, you can do the 5 lb Alpine burger challenge!
Jack's Place - Located within the Resort Community, Jack's Place provides patrons with a little bit of everything. You can select from sushi, pub food, and a wide variety of drinks at Jack's Place. Plus, it provides a relaxing, enjoyable atmosphere!
Schools
What school your child goes to depends on their age and where, precisely, you live in Bear Mountain.
Elementary school students go to either Lakewood Elementary or Millstream Elementary. Both are good schools.
Middle school students all go to Spencer Middle School.
Finally, if you have kids in high school, they will go to either Belmont or Spectrum, depending on your condo's location. Both of these schools are in Langford, so they'll need the bus to get to school.
Do You Want To Buy a Condo for Sale in Bear Mountain? Talk With Your Bear Mountain REALTOR®!
If you're thinking of buying one of the many gorgeous condos for sale in Bear Mountain, please contact us! As your local Bear Mountain real estate experts, we would love to learn more about your desires and goals to see if we can help you find the perfect property for you and your lifestyle! We've helped many people find their ideal home in Bear Mountain already, and we'd love to help you become the newest resident of this peaceful, idyllic, beautiful community!